11 Best Phone Tracker Apps Without Permission Worth Considering
So, you're looking for a free phone tracker app without permission. Or you are willing to fork out a few dollars monthly. In either case, people need phone monitoring apps for various reasons. Knowing where your children are or protecting them online is crucial as a parent. Those in romantic relationships can confirm their suspicions of a cheating partner. Alternatively, an employer will want to keep an eye on their workers. Here, you will learn about the best available services to track a phone without them knowing.
List of Best Apps to Track a Cell Phone Without Permission
Here is a detailed list of options for the best phone tracker app without permission, including prices and pros/cons.
Mobile Tracker Free – Most Affordable App on the Market in the US, Canada, and India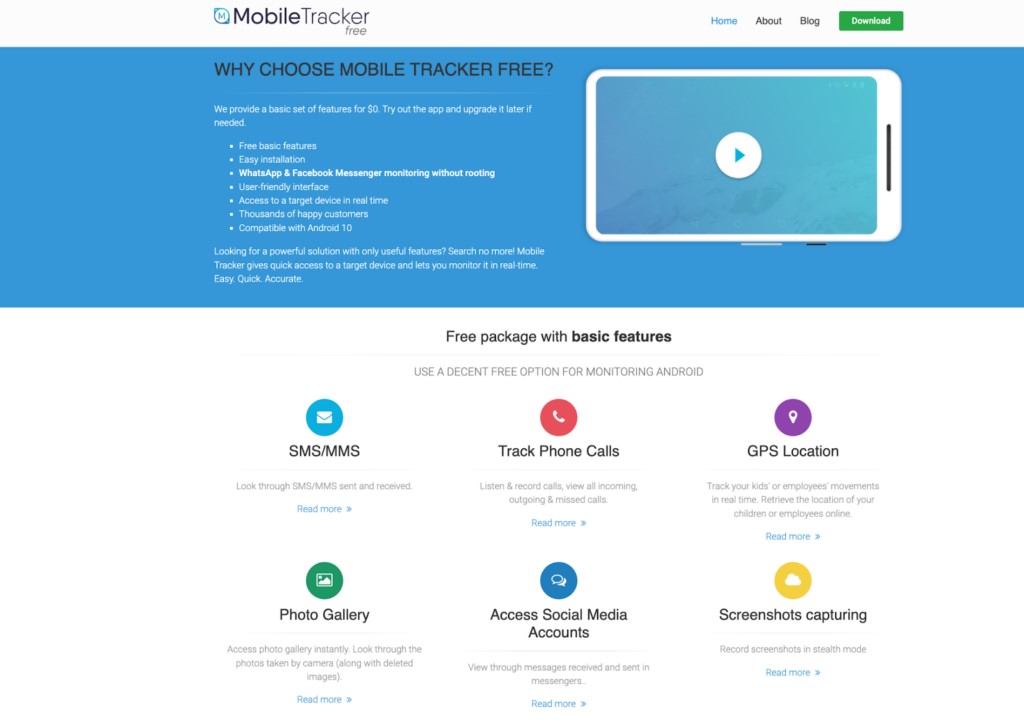 Mobile Tracker Free is a free best phone tracker app without permission with enough competent features for a holistic monitoring experience. These include call logs/screenshot recording, GPS tracking, remote control, live viewing, etc.
Moreover, you can get a paid version of Mobile Tracker Free. The app offers a 1-month package for $49.99 monthly. Alternatively, there is a 3-month plan and a yearly one at $29.99/month and $12.49/month, respectively.
So, all in all, Mobile Tracker Free is the best free phone tracker with economical upgrading options.
Pros:
Offers free and paid versions
User-friendly interface
Monthly fees for packages with longer subscription periods are cheaper
Cons:
Limited customer support
The free plan is limited in time
SpyBubble – Undetectable & Hidden Phone Tracker App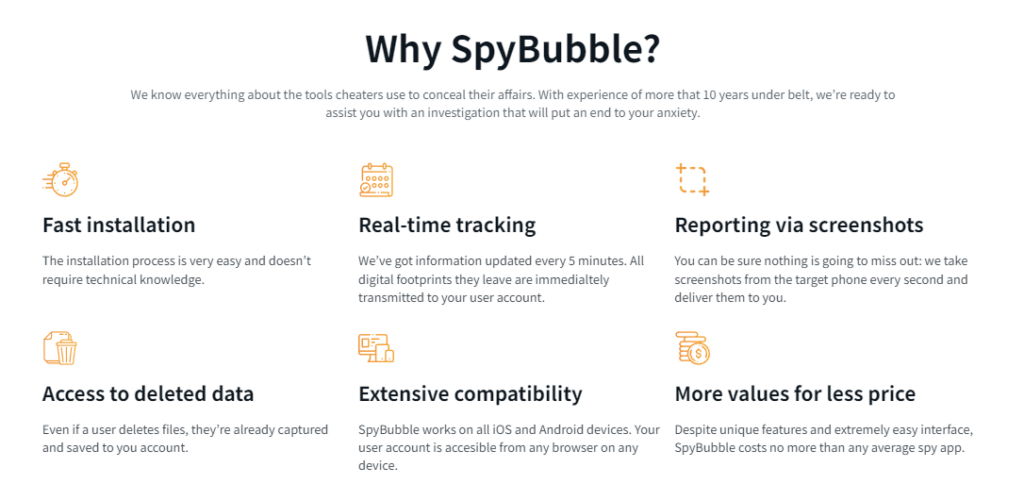 SpyBubble is a comprehensive phone monitoring app that touts itself as an 'investigative partner' for cheating situations. Despite this, it is useful in other cases where you need an app to track phone without them knowing. The service is excellent in hacking a phone's camera and microphone for audio-visual tracing.
It packs a punch for call logging, text and message monitoring across multiple channels, GPS tracking, and keylogging. Users can observe the target's activity in web browsing and across many social media apps. A unique feature of SpyBubble is seeing all the installed apps of the spied phones, including the hidden ones.
Price-wise, SpyBubble is a premium app costing $49.99 monthly. Other options include a three-month subscription for $76.47 and an annual subscription for $127.44.
Pros:
Has been around since 2010
Compatible with all iOS and Android (from v4) units
One-click installation and ease of use
Fast data syncing
$1 trial for 48 hours available (requested via live chat)
Cons:
No geofencing
No demo version
No call recording function
Some features are iOS-exclusive
Only one device per subscription
uMobix – Best Mobile Phone Tracker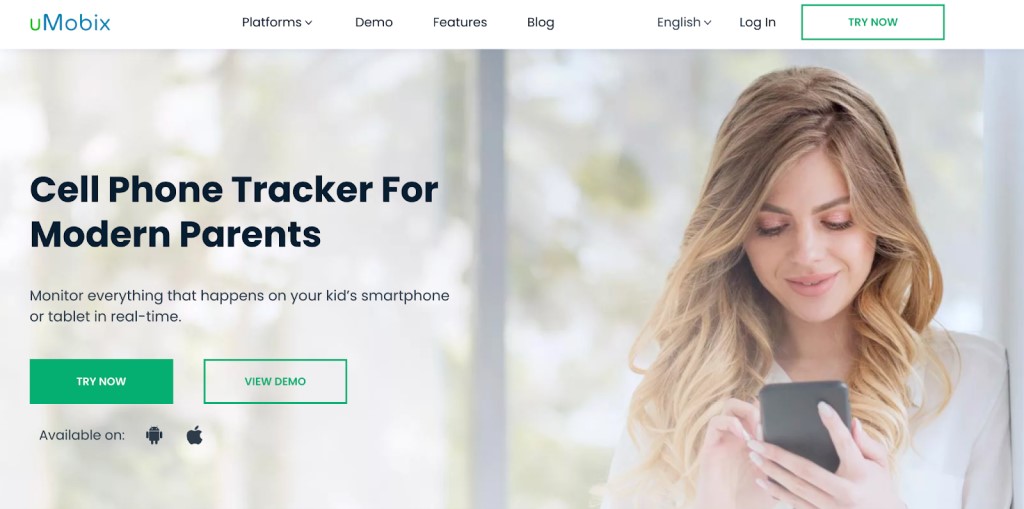 While uMobix only came into the scene in 2020, it's arguably the best phone tracker overall. Customers laud the app for its dynamic monitoring abilities and quick setup. Basic features include advanced call tracking, observing content across all messaging apps, accurate real-time location, and keylogging.
Like SpyBubble, uMobix lets you remotely track the device's surroundings through video and audio recording. Another unique feature you don't find with many apps that track phone activity is access to deleted information.
uMobix costs $49.99 monthly, $89.97 for 3 months, or $149.88 for a year with no price-related exclusions.
Pros:
Works on both Android and iOS devices
24/7 email and live chat customer support
Remote control over targeted device's settings
Offers surround video and audio recording
$1 trial for 48 hours available (requested via live chat)
Cons:
No geofencing
Some limitations exist depending on the operating system
Only one device per paid plan
GEOfinder.mobi – Phone Number Tracker App Without Permission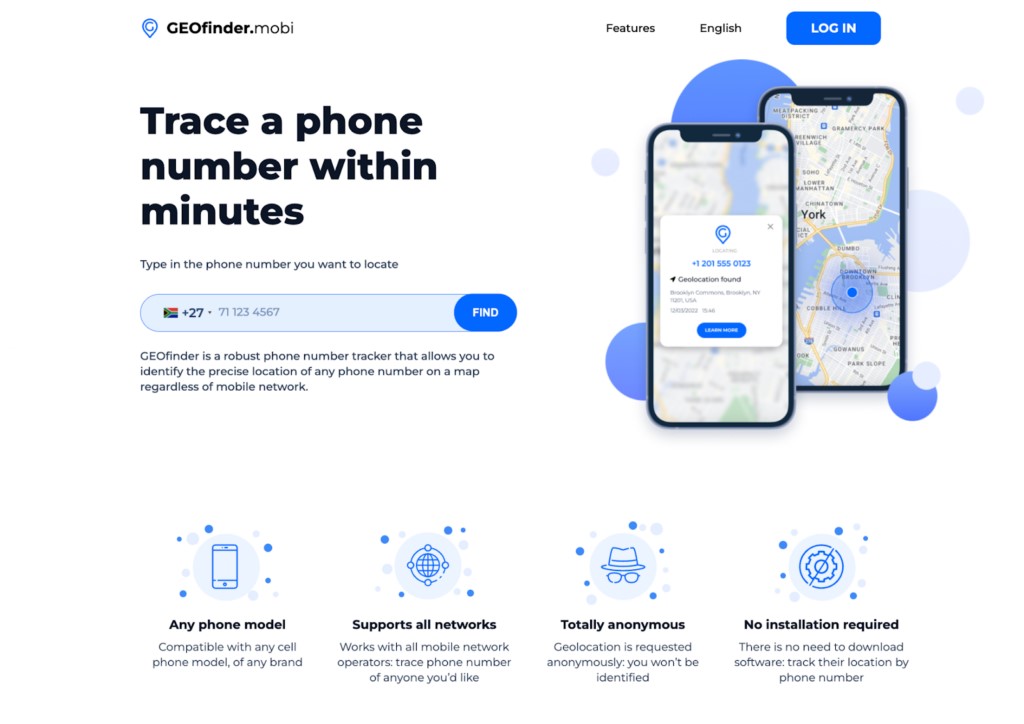 GEOfinder.mobi is an app specifically for tracking someone's location using their cell number without installation. Some trickery is involved for you to view the location of the intended device.
After signing up, GEOfinder sends an innocuous SMS message (created by you) to the targeted user with a link. You can view their precise GPS phone location once they have clicked. GEOfinder prides itself on functioning on any location-enabled smartphone or tablet regardless of the brand, operating system, or mobile network.
Can you track a cell phone location for free? While GEOfinder.mobi positions itself as a free cell phone tracker by number, the service is technically not, costing $39.99 monthly, though it is possible to make use of a free trial limited in time.
Pros:
Only a phone number is needed for location tracking
No device installation required
Compatible with any phone and mobile network
Unlimited geo-location requests
Unlimited amount of devices you can track
$1 trial for 48 hours offered (requested via live chat)
Cons:
The intended device's location settings need to be on
Too pricey, considering that it offers a single feature
Requires the tracked user to click a link before accessing their location
Cocospy – Undetectable Phone Tracker Tool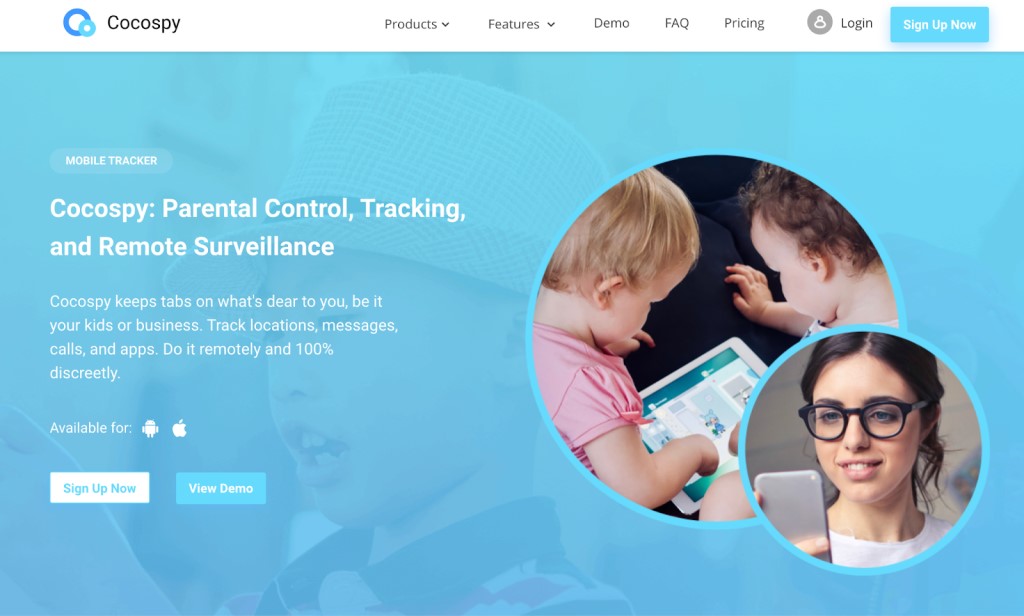 Cocospy brands itself as a parental app with tracking and remote surveillance capabilities. The service's core features include a keylogger, GPS, call tracking, photo/video viewing, social media/internet activity tracking, and even a spyware scanner.
It provides a dedicated version for Android and iOS devices. Many regard Cocospy as the best phone tracker app for Android without permission, more so that no rooting is required. The other version of Cocospy is for phones and tablets running with iOS (from v7 and up). It costs $49.99 monthly.
Pros:
Quick automatic setup
Works on both Android and iOS devices
Provides a demo version
No rooting is needed
24/7 customer service available
60-day money-back guarantee
Cons:
Only one device per subscription
No call recording
Spyic – Secure Phone Tracking App for Parents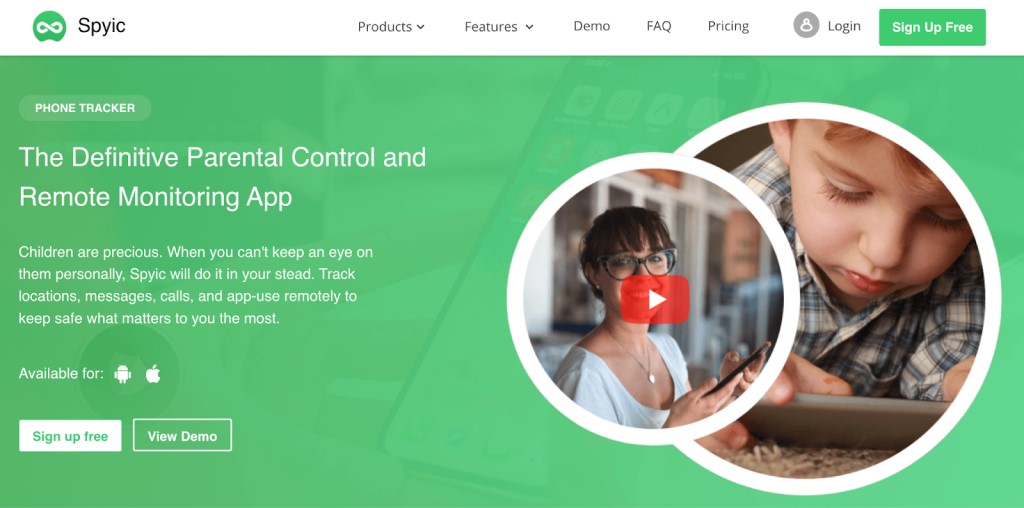 Like Cocospy, Spyic is an app for definitive parental control, excelling in message monitoring across multiple channels, web history tracking, and call tracking. You can view the device's SIM card details and get notified of any SIM changes. Unlike other apps, Spyic offers GPS, Wi-Fi, and SIM-based geofencing.
Spyic has a different app for Android (from OS 4) and iOS (from OS 7) devices. In both cases, no rooting is necessary to use all the platform's features. However, the subscriptions are slightly different for each operating system.
The Basic plan for Android costs $39.99 monthly, $59.99 for three months, and $99.99 for a year. The Premium plan offers all features with an extra $10-20. On the other hand, only the Premium package is available for iOS, at $49.99 monthly, $79.99 tri-monthly, and $129.99 annually.
Pros:
Superb GPS tracking with geofencing
Provides cost-effective family plans
60-day money-back guarantee
User-friendly interface
Cons:
Subscription only caters to one device
iOS plans are slightly more expensive
Reports of slow data updates
Phonyspy – Remote Phone Tracker for iPhone & Android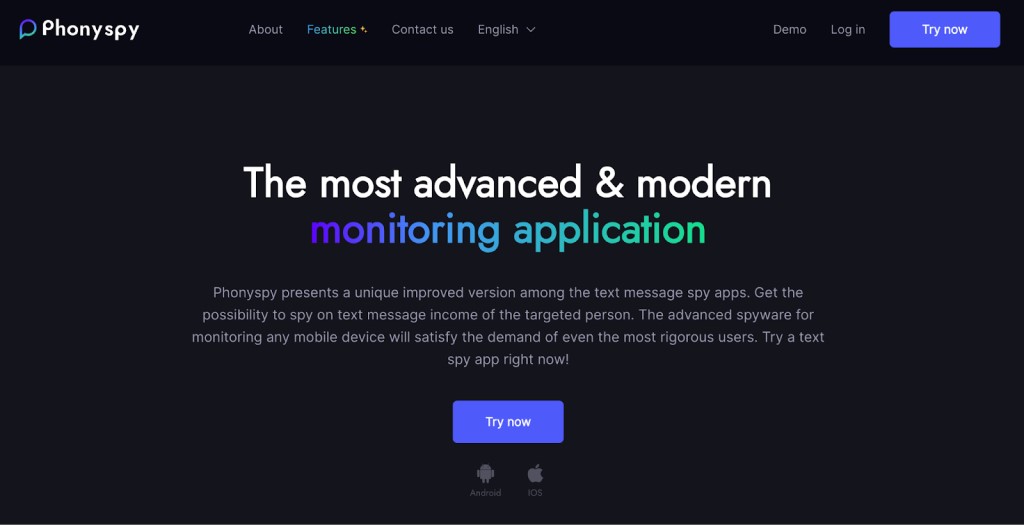 Phonyspy is an advanced phone monitoring application offering key features ranging from keylogging and geo-finding to recording browser usage and messaging app tracking. Interestingly, you can access a wide range of deleted information on the monitored device messages, calls, and contacts.
Phonyspy also provides remote control where customers can delete unwanted apps, restrict apps and calls, block websites and Wi-Fi, disable messages, etc. While Phonyspy is compatible with Android and iOS, it offers more features for Android than its counterpart. Yet, it's a sufficient tracking app for iPhone without permission.
Phonyspy demands a monthly subscription of $49.99, $89.97 for 3 months, or $149.88 yearly.
Pros:
Works for both Android and iOS
Audio and video streaming offered
Advanced remote control available
Cons:
Very few user reviews
Some feature limitations exist depending on the OS
No family plans
Hoverwatch – Best Android Cell Phone Tracker Without Them Knowing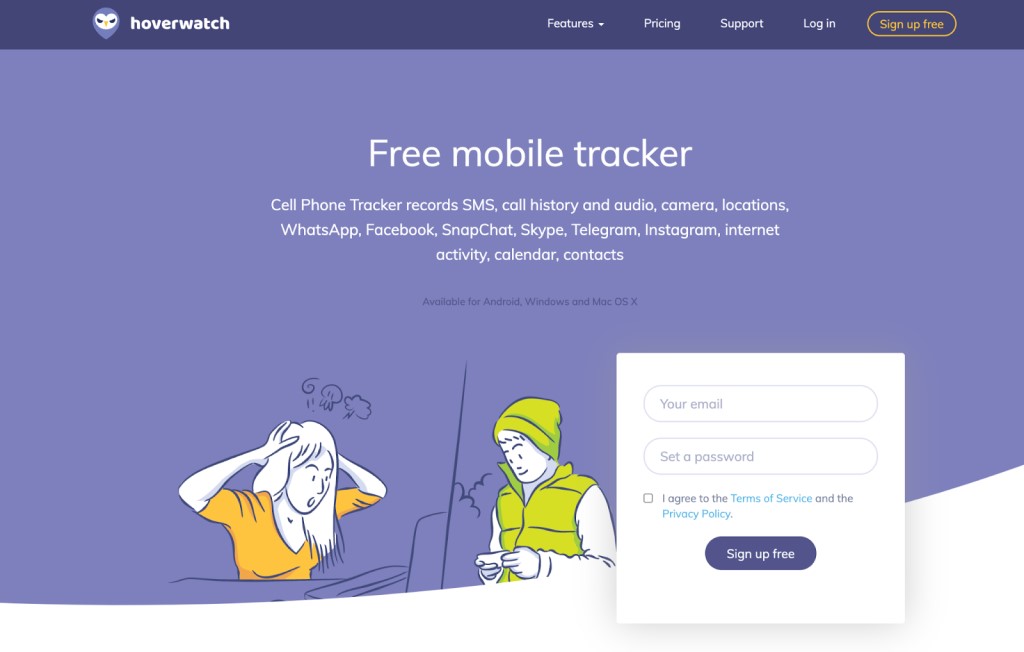 Hoverwatch is a stellar cell phone tracker developed in 2011, now used on millions of devices. Although it brands itself as a free app to track phone without them knowing, it is actually a paid service.
Hoverwatch's basic abilities include call/SMS recording, location tracking, camera tracking, contact saving, and viewing internet activity, to name a few. The app can help you monitor messages across several media-based services like Facebook, Snapchat, Telegram, WhatsApp, Instagram, and more. A unique ability is the automatic front camera photo feature, which captures a photo of the spied-on user whenever they unlock the screen.
Another plus of Hoverwatch is the app's affordable features. It offers a single subscription covering 5 devices, costing $49.95 monthly, $99.95 for 3 months, and $199.95 yearly. Or, you can opt for the personal plan for one device, paying $29.95 monthly, $59.95 tri-monthly, or $99.95 annually.
Pros:
Has one of the most affordable plans
Available for Android, Windows, and Mac OS
Provides a single subscription for 5 devices
Automated front camera capture
No rooting required
Cons:
Not available for iOS
Not a free mobile tracker as claimed on the website
XNSPY – Best Free Phone Tracker App Without Permission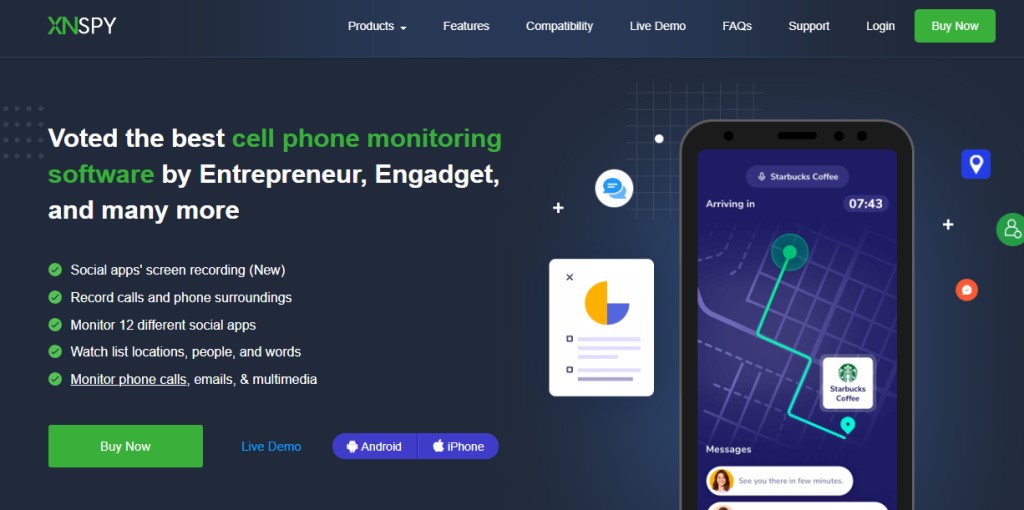 XNSPY is a reliable cell phone spy software for monitoring most Android/iOS smartphones and tablets. It comes with the expected features of a superb spying app, like GPS location, keylogging, call history, and multimedia monitoring.
XNSPY prides itself on providing the maximum features without needing to 'jailbreak.' These include remote phone lock and advanced location tracking. Reviewers have also praised XNSPY's detailed data analysis.
XNSPY costs $49.99 (for Basic) or $59.99 (for Premium) every month, with annual payments between $99.99 and $149.99.
Pros:
Has existed since 2012
Functions with most Android and iOS devices
Comprehensive data analysis
Knowledgeable and friendly customer support
No rooting is needed to access all features
Cons:
Users can't set data upload intervals
No free trial
Reported slow logins to control panel
Spylix – Online Phone Tracker for Parents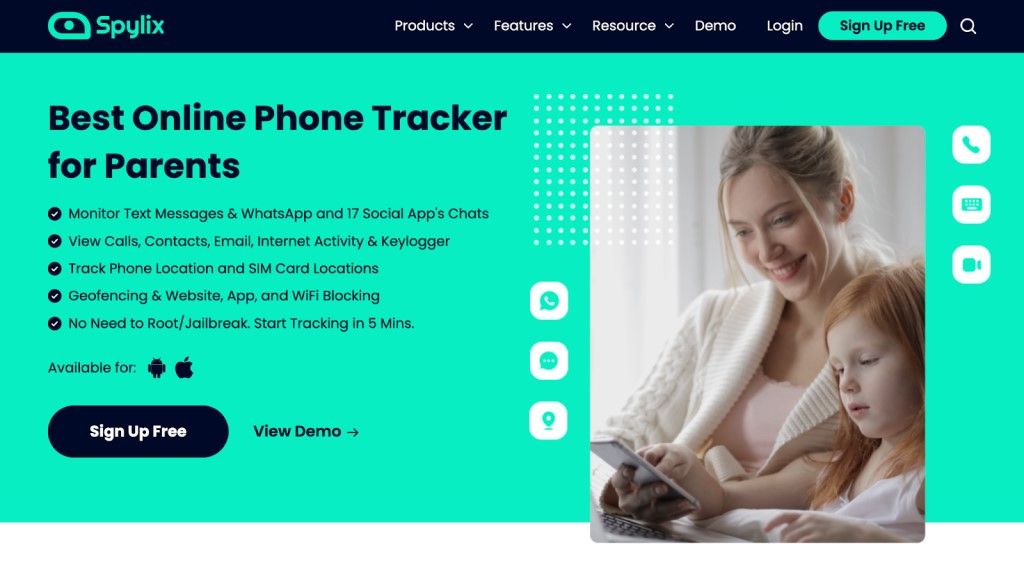 Spylix touts itself as the 'best online tracker for parents.' But, of course, it is helpful in many other scenarios. Spylix's dynamic abilities allow you to observe text messages on SMS, WhatsApp, and 17 social apps. Like XNSPY, phone location is available, along with being notified whenever there is a SIM change.
Spylix works with all Android and iOS devices and promises to remain compatible with each operating system upgrade. Another advantage is that there is no need to root to access all app features.
Spylix provides a Basic offering where you pay $39.99 monthly ($49.99 for Premium), $59.97 for three months ($69.99 for Premium), or $99.96 ($119.88 for Premium).
Pros:
Available for Android and iOS
No rooting or jailbreaking is necessary
24/7 customer service
Offers free hot spying tips and tricks
Cons:
Less intuitive dashboard compared to the competition
Doesn't have many reviews from actual users
Not a free app as claimed on the website
eyeZy – The Most Powerful Phone Monitoring Software on Earth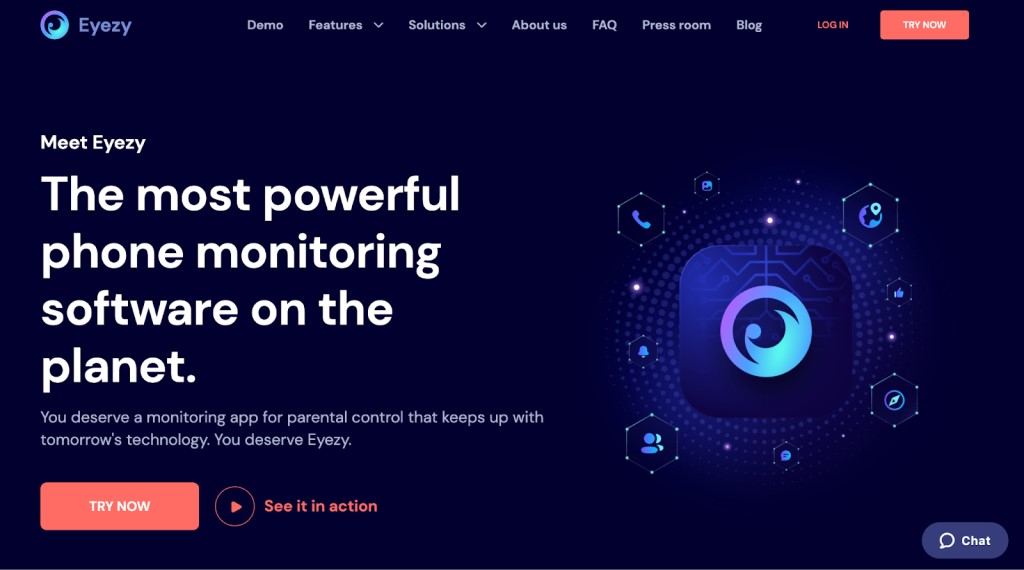 The developers behind eyeZy confidently describe their app as 'the most powerful phone monitoring software on Earth.' It excels in several areas, such as the 'Keystroke Capture,' where you can view every keystroke of the monitored user.
It is possible to view all the visited websites and apps, how long they are in use, and have the ability to restrict them where necessary. With 'Magic Alerts,' you may set boundaries on who the target is communicating with, what they are searching for, and even if they go where they shouldn't.
One of the downsides of eyeZy is the high monthly costs. Customers must pay $68.56 monthly, $119.97 for 3 months, or $171.24 annually.
Pros:
Fast installation
24/7 customer service with live chat
Accurate location tracking
Cons:
Requires rooting for iOS devices
More expensive subscriptions than most apps
No remote camera feature
Subscription only caters to one device
How to Choose the Best Phone Tracker App Without Permission
Here are the main considerations when choosing the best phone tracker app without permission.
OS Support
While Android dominates the mobile market, more people are getting iPhones. So, the best phone tracker must be compatible with both operating systems.
User-Friendly Interface and Ease of Use
Like any software, a well-designed, user-friendly UI makes the app easier and more enjoyable while accomplishing the necessary tasks.
Rooting/Jailbreak
This is one of the most vital things regarding any phone tracker. It's best to get an app you can use to the fullest without this invasion, which can have damaging consequences.
Useful Features
Mobile phone tracker apps are pretty advanced and may overwhelm the less technically savvy. You should define everything that you really need regarding features and select the best option.
Final Words
As expected, there are plenty of choices when it comes to apps that track phone activity. Aside from parental control, infidelity or employee monitoring, these can be useful in:
Fleet management
Asset tracking
Personal safety
Lost or stolen device tracking
Like with any product, always know what you're getting and compare it with others to receive the best value for money. Below is a list of frequently asked questions.
FAQs
What is a cell phone tracker?
A cell phone tracker is software used to track a mobile device's location and other activities across many installed programs.
How to track your partner's phone without permission?
You must install a mobile phone tracker app on the targeted device, ensuring it works without detection.
How does a cell phone tracker work?
This software utilizes network, handset, SIM, and Wi-Fi-based technologies connected to the cellphone for tracking purposes. It works invisibly in the background of the spied-on device to prevent detection.
Is it legal to use cell phone spy software?
It varies from country to country and the circumstances. But generally, it's illegal to track an adult without their consent. In many nations, parental control apps for minors are acceptable with or without permission. Also, employers can use spy software, but only on their company-owned devices.
Is rooting or jailbreaking necessary on the target device?
In some cases, it is necessary so you can use the most advanced features. This is why you should prioritize apps that don't need rooting or jailbreaking so the targeted user doesn't suspect tampering.
How do I track someone on Google Maps without them knowing?
The easiest way is to use any of the mobile spying apps discussed here. The best services in this regard include uMobix, GEOfinder.mobi, Hoverwatch and XNSPY, among others.